Nintedanib: A Review in Fibrotic Interstitial Lung Diseases
posted on 07.04.2021, 22:50
by

Yvette Lamb
DeclarationsFunding
The preparation of this review was not supported by any external funding.
Authorship and Conflict of interest
Yvette Lamb is a salaried employee of Adis International Ltd/Springer Nature, and declares no relevant conflicts of interest. All authors contributed to the review and are responsible for the article content.
Ethics approval, Consent to participate, Consent to publish, Availability of data and material, Code availability
Not applicable
Additional information about this Adis Drug Review can be found
here
Abstract
Progressive fibrosing interstitial lung diseases (ILDs) involve similar pathophysiological processes, indicating the potential for common approaches to treatment. Nintedanib (Ofev
®
), an intracellular tyrosine kinase inhibitor (TKI) with antifibrotic properties, was one of the first drugs approved for use in idiopathic pulmonary fibrosis (IPF) and has more recently been approved for use in other chronic fibrosing ILDs with a progressive phenotype and systemic sclerosis-associated ILD (SSc-ILD). In multinational phase III trials, nintedanib significantly reduced the annual rate of decline in forced vital capacity (FVC) in adults with IPF, other progressive fibrosing ILDs and SSc-ILD. Reductions in FVC decline with nintedanib in patients with IPF and severe gas exchange impairment were comparable to those in patients with milder disease. Real-world experience in patients with IPF supports the effectiveness of nintedanib in slowing ILD progression. Nintedanib had a manageable tolerability profile in patients with fibrotic ILDs in clinical trials and real-world studies. No new safety signals have emerged from global pharmacovigilance data. Nintedanib continues to represent an important therapeutic option in patients with IPF and is the first drug to be approved for use in patients with other chronic fibrosing ILDs with a progressive phenotype or SSc-ILD, with these approvals expanding the range of fibrotic ILDs for which nintedanib can be prescribed.
A plain language summary slide is shown above.

© Springer Nature Switzerland AG 2021
History
Read the peer-reviewed publication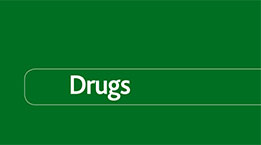 Drugs
Categories