File(s) not publicly available
Reason: No enhanced material.
Landiolol: A Review in Tachyarrhythmias
posted on 10.04.2018, 00:38
authored by

Yahiya Y. Syed
Compliance with Ethical Standards
Funding: The preparation of this review was not supported by any external funding.
Conflicts of interest: Yahiya Y. Syed is a salaried employee of Adis/Springer, is responsible for the article content and declares no relevant conflicts of interest
Additional information about this Adis Drug Review can be found
here.
Abstract
Intravenous landiolol (Rapibloc®, EU), an ultra short-acting highly cardioselective β1-blocker, is approved in the EU for the rapid short-term control of tachyarrhythmias in the perioperative and intensive care settings. It has long been used in Japan to treat perioperative tachyarrhythmias. The efficacy of landiolol has been demonstrated in a large number of randomized controlled clinical trials. Landiolol significantly reduced heart rate in patients with postoperative or intraoperative supraventricular tachycardia relative to placebo and in those with atrial fibrillation/flutter and left ventricular dysfunction relative to digoxin. It was more effective than diltiazem in converting postoperative atrial fibrillation (POAF) to normal sinus rhythm. Perioperative prophylactic administration of landiolol significantly reduced the incidence of POAF during the first week after cardiac and other surgeries, compared with diltiazem, placebo or no landiolol treatment. Landiolol also attenuated adverse haemodynamic and other responses to invasive procedures such as percutaneous coronary intervention, tracheal intubation, extubation and electroconvulsive therapy. Landiolol was generally well tolerated, with a relatively low risk of hypotension and bradycardia. Landiolol has more favourable pharmacological properties than esmolol, a short-acting β-blocker commonly used for the rapid control of heart rate Although additional comparative studies are required to define the place of landiolol relative to esmolol, current evidence suggest that landiolol is a useful option for the rapid short-term control of tachyarrhythmias. Landiolol offers a relatively simple dosage scheme and is available in two easy-to-use formulations. Access to the full article can be found
here.
© Springer International Publishing AG, part of Springer Nature 2018
History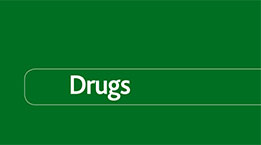 Drugs
Categories