Imipenem/Cilastatin/Relebactam: A Review in Gram-Negative Bacterial Infections
posted on 25.02.2021, 00:03
authored by

Young-A Heo
Funding The preparation of this review was not supported by any external funding.
Authorship and Conflict of interest Young-A Heo is a salaried employee of Adis International Ltd/Springer Nature, and declares no relevant conflicts of interest. All authors contributed to the review and are responsible for the article content.
Ethics approval, Consent to participate, Consent to publish, Availability of data and material, Code availability not applicable
Additional information about this Adis Drug Review can be found here
Abstract
Imipenem/cilastatin/relebactam (Recarbrio™) is an intravenously administered combination of the carbapenem imipenem, the renal dehydropeptidase-I inhibitor cilastatin, and the novel β-lactamase inhibitor relebactam. Relebactam is a potent inhibitor of class A and class C β-lactamases, conferring imipenem activity against many imipenem-nonsusceptible strains. Imipenem/cilastatin/relebactam is approved in the USA and EU for the treatment of hospital-acquired bacterial pneumonia (HABP) and ventilator-associated bacterial pneumonia (VABP) in adults and other gram-negative infections, including complicated urinary tract infections (cUTIs) [including pyelonephritis] and complicated intra-abdominal infections (cIAIs), in adults with limited or no alternative treatment options. In pivotal phase II and III trials, imipenem/cilastatin/relebactam was noninferior to piperacillin/tazobactam in patients with HABP/VABP and to imipenem/cilastatin in patients with cUTIs and cIAIs. It was also effective in imipenem-nonsusceptible infections. Imipenem/cilastatin/relebactam was generally well tolerated, with a safety profile consistent with that of imipenem/cilastatin. Available evidence indicates that imipenem/cilastatin/relebactam is an effective and generally well tolerated option for gram-negative infections in adults, including critically ill and/or high-risk patients, and a potential therapy for infections caused by carbapenem-resistant pathogens.
History
Read the peer-reviewed publication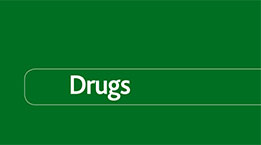 Drugs
Categories