Entrectinib: A Review in NTRK+ Solid Tumours and ROS1+ NSCLC
posted on 21.04.2021, 05:18
by

James E. Frampton
Acknowledgments During the peer review process, the manufacturer of entrectinib was also offered an opportunity to review this article. Changes resulting from comments received were made on the basis of scientific and editorial merit.
Declarations
Funding The preparation of this review was not supported by any external funding.
Authorship and Conflict of interest J. E. Frampton is a salaried employee of Adis International Ltd/Springer Nature, and declares no relevant conflicts of interest. All authors contributed to the review and are responsible for the article content.
Ethics approval, Consent to participate, Consent to publish, Availability of data and material, Code availability Not applicable.
Additional information about this Adis Drug Review can be found here.
Abstract
Entrectinib (Rozlytrek®) is an orally active, CNS-penetrant, small-molecule, selective inhibitor of the tropomyosin receptor tyrosine kinases TRKA/B/C [encoded by the neurotrophic tyrosine receptor kinase (NTRK) genes NTRK1/2/3, respectively], the proto-oncogene tyrosine-protein kinase ROS1 (ROS1) and the anaplastic lymphoma kinase gene (ALK). It is approved for the treatment of adults and paediatric patients aged ≥ 12 years with NTRK fusion-positive (NTRK+) solid tumours and adults with ROS1 fusion-positive (ROS1+) non-small-cell lung cancer (NSCLC). In trials in adults, entrectinib induced clinically meaningful and durable systemic responses in tyrosine kinase inhibitor (TKI)-naïve patients with locally-advanced or metastatic NTRK+ solid tumours or ROS1+ NSCLC, irrespective of the presence or absence of CNS metastases at baseline. Moreover, entrectinib demonstrated substantial intracranial efficacy in patients with baseline CNS metastases. Entrectinb efficacy in paediatric patients was established on the basis of extrapolation of clinical trial data from adults with NTRK+ solid tumours and children and adolescents aged < 21 years with recurrent or refractory NTRK+ CNS/solid tumours. Entrectinib was generally well tolerated, with a manageable safety profile. Thus, entrectinib expands the range of treatment options for advanced NTRK+ solid tumours and ROS1+ NSCLC, and may be of particular value in patients with existing CNS metastases and those who are at risk of developing CNS metastases
© Springer Nature Switzerland AG 2021
History
Read the peer-reviewed publication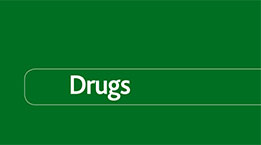 Drugs
Categories