Bulevirtide: First Approval
posted on 18.09.2020, 00:21
by

Connie Kang
Ethics Declarations
Funding

The preparation of this review was not supported by any external funding.
Authorship and Conflict of interest
Connie Kang and Yahiya Y. Syed are salaried employees of Adis International Ltd/Springer Nature, are responsible for the article content and declare no relevant conflicts of interest.
Ethics approval, Consent to participate, Consent to publish, Availability of data and material, Code availability
Not applicable.
Additional information about this Adis Drug Review can be found
here
.
Abstract
Bulevirtide (Hepcludex®), a first-in-class entry inhibitor, is being developed by MYR GmbH for the treatment of chronic hepatitis delta virus (HDV) and chronic hepatitis B virus (HBV) infections. Bulevirtide was recently approved in the European Union (EU) for the treatment of chronic HDV infection in HDV RNA positive adult patients with compensated liver disease. This article summarizes the milestones in the development of bulevirtide leading to this first approval for chronic HDV.

© Springer Nature Switzerland AG 2020
History
Read the peer-reviewed publication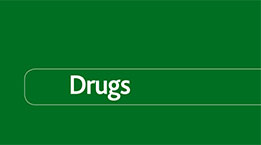 Drugs
Categories